Chances are, you are visiting us because you or someone you love is struggling with infertility. If so, you are not alone. In fact, it is estimated that one in six individuals are diagnosed with infertility every year.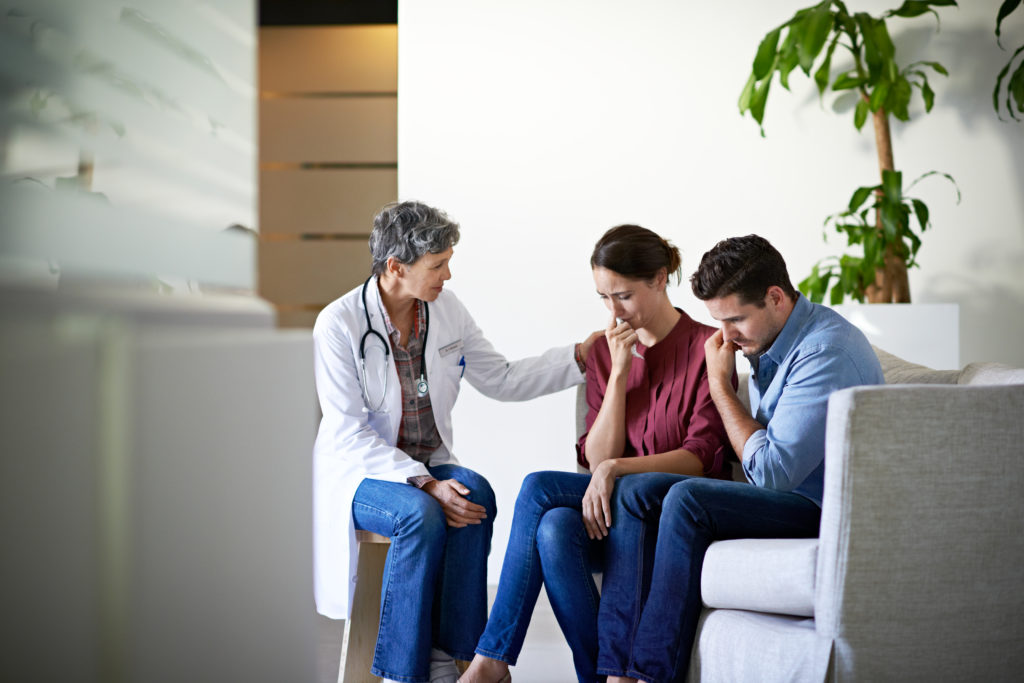 Infertility is diagnosed when couples have been unable to become pregnant after trying for at least one year. Despite common belief, men and women are equally likely to experience fertility issues. In fact, one third of infertility cases originate from women, one third from men, and one third of the cases are unexplained.
Although many people believe infertility causes an individual to simply be unable to conceive, the challenges do not end there. Up to 20% of pregnancies among infertile couples lead to miscarriages.
Emotional toll of infertility
The physical challenges of infertility frequently take precedence over the emotional impact of living with this condition. But the financial strain of fertility treatments, medication side effects, and uncertainty of what the future holds all contribute to the chronic stress that is rampant among infertile couples.
Common challenges when coping with infertility include:
Anxiety
Depression
Social isolation
Difficulty focusing
Impaired sleep quality
We asked our readers to share their stories, and one in particular stood out us. Stephanie and her significant other had always planned to build a family together. However, after over a year of failed attempts to conceive, she was diagnosed as infertile. Undaunted, they spent thousands of dollars in fertility treatments and suffered three miscarriages in the process. Struggling with depression and hopelessness for years, Stephanie began distancing herself from her closest friends.
However, thanks to the continuous efforts from both the medical and research community to support couples like Stephanie on her dream of having a child of her own, new and improved treatment options are changing people's lives. Stephanie was lucky enough to try a relatively new treatment called Precision In-Vitro Fertilization (IVF), and has been given the gift of a healthy son.
In-Vitro Fertilization at a glance
In-vitro fertilization (IVF) is a complex process that involves retrieving mature eggs from the ovaries and fertilizing them by sperm in the lab. Once fertilized, the eggs are implanted back in the uterus. If a couple's own eggs, sperm, or embryos are not viable, the procedure may be carried out by the support of a donor. it takes about two weeks to complete one IVF cycle.
Because this is considered an invasive and expensive procedure, IVF is typically performed after less invasive options are exhausted.

Fertility issues that often result in IVF include:
Endometriosis
Uterine or fallopian tube issues
Inability to ovulate properly
Low sperm count
Inability of sperm to survive long enough to fertilize the egg
When the body produces antibodies that destroy the egg or sperm
Unexplained fertility issues

Generally, IVF contributes to about 33% of live births after their first cycle, and between 54-77% of couples have a child by their eighth cycle. Due to the success of IVF, the number of couples undergoing this procedure continues to rise dramatically every year.
But what about the percentage of people who are likely to experience a failure to conceive after their first IVF attempt? Thankfully, a relatively new method of IVF is proving to significantly increase pregnancy success.
Benefits of Precision IVF
Precision IVF is unique to any form of assisted reproductive technology (ART) on the market. This process includes a new, powerful technology called preimplantation genetic screening (PGS) that gathers a small sample of cells from an embryo to assess genetic normalcy. This enables the physician to only implant the most viable embryos back in the uterus.
It is estimated that by including PGS into standard IVF treatments, both pregnancy and birth success increases significantly. This topic has been studied extensively over the last decade.
Research findings
One study assessed the impact of PGS on pregnancy outcome among women who experienced at least three miscarriages. A total of 192 participants were included in the study. Pregnancy success was defined as those who carried their child through the third trimester, and delivered at least one child. This study found that pregnancy loss was reduced to 13% when PGS was included in IVF, compared to an 88.5% miscarriage rate in previous pregnancies without the use of this PGS.
Furthermore, in a recent systematic review and meta analysis, researchers aimed to determine the efficacy of PGS in improving pregnancy success and live birth rate. They assessed a total of 26 studies on this topic, along with 18 studies evaluating childhood outcomes. The researchers found that patients who received PGS along with traditional IVF experienced significantly improved pregnancy and live birth rates without negatively impacting the child's physical and mental functioning through nine years of age.
Final thoughts
If you or someone you know has fertility issues and is struggling to get pregnant, Precision IVF is proving to significantly improve pregnancy outcome. Although PGS is expensive (ranging between $1,000 – $3,500) and not covered by insurance, it may be a cost effective option for those who have a history of failed pregnancies due to it's high success rate.
It's important to remember that millions of people throughout the world struggle with the hardships that revolve around having a child. Simply put, we exist to support you as you take the leap to expand your family. If you are in need of resources to guide you in your journey, we highly recommend you join our trusted community.
Share or connect with us: